Overview
Madden Pump combines a heavy duty tank for mixing and storing chemicals, a Madden diaphragm metering pump to inject the chemical solution, an industrial duty mixer, and suction and relief piping all on one platform to offer you a complete chemical feed system.
Madden has standard pre-engineered systems, and is also capable of building customized systems with equipment and features specified by the user.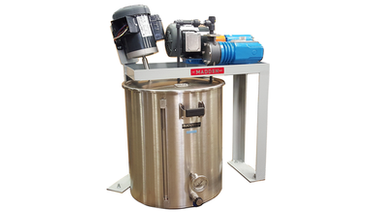 The following is a list of main features and their sub-features:
Tanks

Durable polyethylene tanks are standard.
Polypropylene and stainless steel tanks are options
Hinged lids and piping connections are included.
Sizes from 30 to 110 gallon capacity are standard (optional sizes available to meet any storage capacity requirements).

Pumps

Madden diaphragm metering pumps are used to inject chemicals into the plant's operating system.
Madden pumps are industrial grade, heavy duty construction, with adjustable output control. Output as low as 1 GPH and as high as 360 GPH.
See our P04 Pump Brochure for more details on the 3 different series of Madden metering pumps (link)

Mixers

Madden has high speed, medium speed, slow speed, and variable speed mixers available for your chemical mixing needs.
Blend, suspend, dissolve, and disperse nearly any solution with these industrial agitators.
Stainless steel shafts and 3 blade marine type propellers are standard. Turbines up to 24 inches in diameter also available.

Platforms

These are welded steel construction, designed to support a filled tank.
Serve as mounting for the mixer, pump, and piping.
Standard platforms raise tank 16" from the floor to enable easy access by the operator.
Custom platforms can be made for multiple tanks and pumps.
Standard finish is acrylic enamel, with highly corrosion resistant epoxy primer with polyurethane top coat as an option.
This concludes our "standard line-up" of chemical feed systems and you can glance through the brochure here. Madden would like to emphasize that you should view this as a guide line for what we can offer you. We are very quick to respond to inquiries, reach out to us with any questions or alternatives to these systems you'd like to know about.
Common Custom Specifications
We have noticed an increase in inquiries for our feed systems when it comes to "one off" custom applications. It is common for us to receive a call that goes something like, "Hey, I was looking at your feed systems and I like the idea of getting something similar to a model TE501 but…
"we need a stainless steel tank"
"we need a larger pump"
"we need it to be on two separate platforms"
"we want to double up everything, and to have it all on one skid"
And so on and so on. Sometimes we're even receiving inquiries asking, "I need a system put together with no tank and mixer, but rather 4 pumps working together via a switch board".
"Can you do this?" – Yes we can!
*VIDEO
This is a 1:30 minute video giving a brief overview of a chemical feed system of ours. You may notice this system in the video won't technically be found in our literature. This is because the customer needed us to jump from a JN series pump to an MF series pump, as well as find them a 30 gallon stainless steel tank. Done and Done!
Conclusion
This video shows how our simple and clean standard feed system design can be tweaked and reengineered to perfectly fit your application.
If you have seen anything here that is close to a perfect fit for serving an application of yours, but it just needs some slight variations, give us a call (574) 295-4292 and we'll see what we can do.