For 65 years now, Madden products have been described this way by employees, distributors, rep's, and end users alike. It has always been the Madden mantra to manufacture industrial chemical metering pumps and boiler blowdown equipment with quality and simplicity in mind. Madden puts an emphasis on providing excellent performance and value within our products for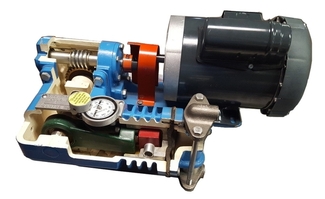 our distribution team and end users. We have always wanted the experience associated with our products to be one of ease and trust; trust that the products will perform with little to no down time, trust that any maintenance required will be quick and easy to perform, and trust that the Madden customer service and distribution team will always respond quickly to any questions that may arise with your chemical metering or boiler blowdown applications.
So we turned this nonchalant phrase used to describe our products into our "official" company slogan. We believe it embodies our personal philosophy in regards to our customer service as well as the physical products themselves. Chemical metering pumps have been our bread and butter product for 65 years now and this article will quickly break down what we mean by Proven, Rugged Quality when it comes to our industrial chemical metering pumps:
Proven
Diaphragm metering pumps come with many different variations and are offered by many different brands. From high tech controls built directly within the motor/solenoid system, to relief valves directly built into the wetted end and every variation in between. There are a lot of options. These options can certainly add value, but we have found they can also be frustrating. Integral additions equal higher costs and more detailed maintenance required. And some brands do not offer the option to forgo these integral components.
Madden Pump's metering pumps are simple by nature, and complex by choice. Our pumps are designed to run 24 hours a day, 7 days a week, 365 days a year with little to no down time. They are a work horse type of chemical injection pump. And when maintenance is called for, you can replace worn out valve assembly parts with common every day hand tools found in any tool box. Maintenance on a Madden metering pump is infrequent and only takes 5 to 10 minutes when necessary. The pump's straight forward and simple design allows for this.
We offer ancillary equipment like relief valves, back pressure valves, pulsation dampeners, variable frequency drives for automatic output control via motor speed, and so on, but these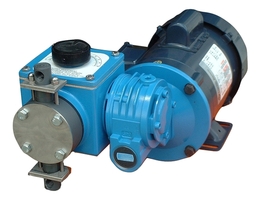 are additions you can choose to have included. You can start with a simple and dependable metering pump and then add as many one off ancillary components as needed. This keeps costs effective and maintenance easy.
RUGGED
In regards to Madden metering pumps, to us "rugged" is what bridges the gap between "proven" and "quality". Rugged is the word most often used by our distribution team to describe Madden's chemical metering pumps. Two definitions listed for rugged are "strongly made and capable of withstanding rough handling" and "having or requiring toughness and determination". Maybe a bit cheesy, but to us this symbolizes our metering pump design to a "T". Madden diaphragm metering pumps are built to thrive in harsh chemical conditions, indoors or outdoors, and to do so dependably for years and years of its service life. They are determined to keep dosing chemicals consistently and accurately no matter the environment they are in.
Our design is an all-aluminum body with heavy duty metal parts making up the guts of the pump. There is no plastic used in any Madden metering pump bodies. This allows our pumps to withstand years of intense service life, and we believe the rugged design will show this when you first lay eyes on our metering pump.
QUALITY
Last but not least. To us quality stands for dependability and cost effectiveness. Unlike some metering pumps built to be replaced, like plastic solenoid type metering pumps (LMI, Pulsafeeder, Iwaki, etc.) our metering pump design is built to be dependable for years. Madden metering pumps often last up to 20+ years before replacing it is even considered. With other metering pumps often times you are throwing them away and replacing the entire pump every couple of years. An expected 2 year service life is not dependable: a proven, rugged industrial metering pump made of heavy duty parts made with the intention of lasting 20+ years, is. The physical quality stems from the parts we use. The raw materials we bring in to manufacturer our pumps come from dependable American made manufacturers and suppliers, we machine everything at our Elkhart, Indiana plant and can claim the "Made in the USA" status. Every part used is a high end, quality piece. From our extra thick, nylon reinforced diaphragms, to our bronze sprocket and steel worm gearing, the parts are made to last.
And when it comes to the cost of Madden's metering pump design, we believe it is one of the most cost effective designs available. This is based on feedback we've received from our industrial distributors who have experience with all of these brands and types of metering pumps. We build a design that is as rugged as the top line brands available on the market, but do not waste our manufacturing costs on extra, potentially unnecessary features. Now on the other hand, our metering pumps cost more than the cheaper solenoid type metering pumps, but that is only based upon the initial expense of the pump. Depending on how frequently your metering pump needs to run, the Madden metering pump design will become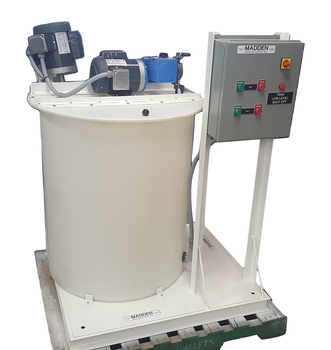 more cost effective than the cheap, plastic solenoid metering pumps in only a couple of years. This is based upon the cost of needing to completely replace a cheap plastic metering pump in comparison to the small costs you may have every few years on wearable valve assembly replacement parts in our metering pumps.
All in all, Madden focuses on producing one of the most dependable designs at a relatively modest cost, which allows us to feel confident stating we offer a metering pump in the top of its class when it comes to Quality.
Conclusion
If you have a chemical metering application, consider everything you expect to have in a metering pump and everything you want to have as well. We believe our design offers one of the best options to choose from in regards to what you expect and want without having to pay for what you don't need or want.
We hope as you research pumps across the internet, Madden metering pumps will stay on your mind because they were easy to understand and the quality was easily seen. We love our proven, rugged design. We believe because they are inherently easy to understand, they become easy to trust. When online shopping and researching you can get overwhelmed with choices and information in general. We hope this article helps make your choice easier and we would love it if you reached out directly to us or one of our distributors near you.
There are enough stressors and other tasks on your plate, the Madden metering pump in your application shouldn't be one. Madden is a small, family owned manufacturer, and we take pride in the products we produce and we especially take pride in our customer service to back them.
Our customer service, distribution team, and Proven, Rugged Quality metering pumps will offer peace of mind in your chemical injection application for many years to come.