Industrial Mixers
Made in the USA
Madden offers three heavy duty, industrial mixer types for chemical tanks up to 5,000 gallons (18,925 L) capacity. These mixers are often known as agitators and they serve a vast array of industrial applications across the world; the mixing process and applications include, but are not limited to:
Liquid Blending
Solids Suspension
Gas Dispersion
Dissolving Solids
Chemicals
Mining processes
Petroleum processes
Slurries
And more!

Industrial mixer speeds available for single speed motors are 1,725 rpm, 345 rpm and 57 rpm. For variable speed chemical mixers, ranges are 200-2,000 rpm, 40-400 rpm, and 6-66 rpm.
Standard motors are from 1/3 to 1 HP (0.25-0.75 kw), TEFC enclosure, 1/60/115-230 or 3/60/230-460 power. Motor options include 50 Hz, explosion proof enclosure and air motors. Variable speed electric motors are also available.
Engineering
Designed for tough industrial jobs where chemicals must be accurately pumped 24 hours a day, 365 days a year
Fast Lead Times
Standard lead time 1-2 weeks Emergency/Rush pumps available in 1-2 days!
Chemical Mixers
Heavy-duty industrial mixer types for chemical tanks up to 5,000 gallons (18,925 L) capacity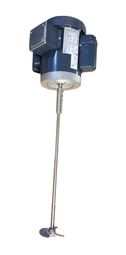 AH Series 
Industrial Chemical Mixer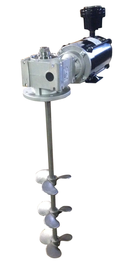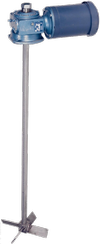 AL Series
Industrial Mixer
Features
Portable and Rigid Mounting Options
At Madden we have three different styles of mounting brackets, the two rigid mounts can be customized to meet specifications, and all are designed for standard 56 frame foot motors.
Portable C- Clamp mounting bracket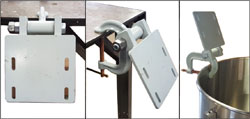 C-Clamp Mounting Bracket
The Portable C- Clamp mounting bracket is for applications that need the high speed agitator to be portable. Buy a smaller high speed mixer or even variable speed mixer, and equip it with a C clamp mounting bracket, and let that unit work some overtime. Use this bracket to put a mixing tank on a table, directly on the tank, or anywhere else you can think of to best serve your application.
Rigid mounts
Our rigid mounts are what we use with systems that include industrial mixers and High Density Polyethylene tanks. The rigid vertical mounting brackets use a specified length of angle iron and a motor mounting plate welded together on a base for the tank.
Bridge mounts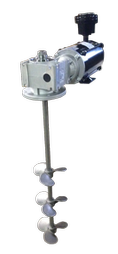 AM3B3-S__-__ Chemical Mixer
The AA031 and AA032 are bridge type mixer mounting structures, specifically designed for heavy geared mixers. The bridge type mounts support the mixer over the tank so the entire weight of the mixer is supported by the bridge mount.
Propellers and/or Turbines
Madden can attach 4" propellers, 8" propellers, and even large turbines up to 24" in diameter! We put a flat in the shaft and use a set screw to fasten the propeller to the shaft. This allows for great stability while still providing the option to adjust the propellers' positions.
Madden Pump has your buying experience in mind when it comes to getting an industrial duty mixer. We'll help you to speed up your purchasing process by providing extremely responsive customer service. It starts as a simple mixer, and quickly grows into your mixer.
To learn more about our industrial mixers, contact Madden or call (800)369-6233 today!