Chemical Metering Pumps
Made in the USA
Madden diaphragm metering pumps are designed for tough industrial jobs where chemicals must be accurately pumped 24 hours a day, 365 days a year. Engineered materials are used for the wetted end to pump virtually any chemical, from acids to caustics. Even viscous liquids and suspended solids can be pumped with volume controlled accuracy.
Accuracy
Repetitive accuracy of +/- 1% over a 10:1 turndown ratio
Pump Options
3 Pump series and 22 models ranging from 1 to 360 GPH
Engineering
Designed for tough industrial jobs where chemicals must be accurately pumped 24 hours a day, 365 days a year
Fast Lead Times
Standard lead time 1-2 weeks.
Emergency/Rush pumps available in 1-2 days!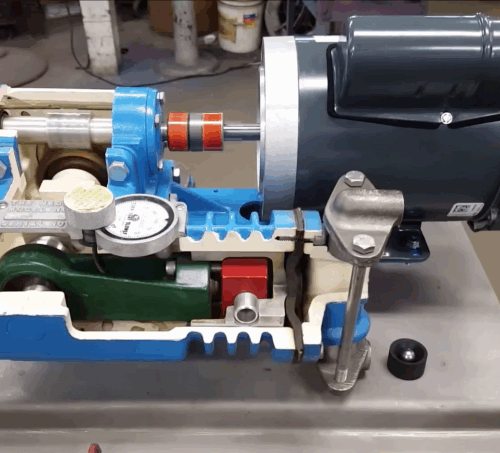 Chemical Injection Pumps
Dosing Pumps for Chemical Injection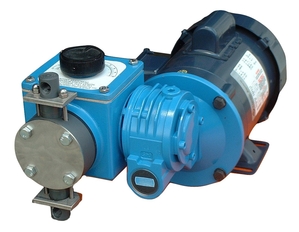 JN Series
6 models from 1 to 11 GPH (4-42 L/hr)
Simplex, duplex and triplex metering pumps available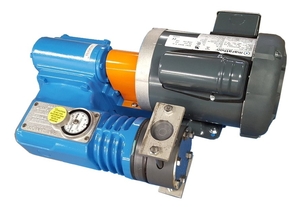 MF Series
11 models from 5 to 75 GPH (19-340 L/hr)
simplex, duplex, triplex and quadruplex metering pumps available.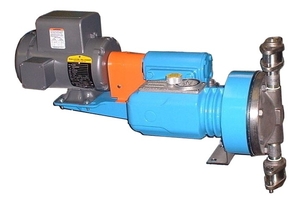 MH Series
5 models from 96 to 360 GPH (363-1,362 L/hr)
Simplex and duplex metering pumps available.
Metering Pump – Accuracy
Repetitive accuracy of +/- 1% over a 10:1 turndown ratio is achieved with the stroke adjustment knob located conveniently on the top of the pump.
Metering Pumps – Long Service Life, Low Maintenance
The simple mechanically actuated diaphragm design eliminates pesky hydraulic systems and packing glands used in many metering pumps. Large bearings and shafts, continuously lubricated with a bath of oil give many years of reliable service. Precision bronze worm gears and steel worm drive shafts convert motor rpms to linear piston pumping power. Replacing worn parts is fast, simple, with common tools.
Rugged Construction Madden metering pumps are heavy duty industrial grade, using standard industrial 56 frame motors and worm gear reducers to produce reliable pumping power designed to provide many years of reliable service. Heavy duty aluminum gear box and pump body castings, precision machined and bolted assembly. Wetted end parts made from a selection of corrosion resistant materials. Thick Nylon reinforced diaphragms for tough pumping service. Industrial grade 56 frame electrical motors are available to meet any enclosure and power supply requirement.
Madden metering pumps are industrial grade construction, with heavy gearing, shafts and bearings, and industrial grade electric motors. Some of the lower capacity competitors do not use electric motors to drive the diaphragm, using a solenoid instead. The Madden pumps will outlast these consumer grade products by decades. Compared to some competitors hydraulically actuated diaphragm type metering pumps the Madden pumps do not have hydraulics to keep in operation. Madden pumps do not need replacement of hydraulic fluid, seals and components, and the Madden pumps will never leak hydraulic fluid into the industrial process. Madden diaphragm metering pumps are simple in design and construction, requiring minimal maintenance. Repairs are done with common tools.
Why use a Madden pump for chemical dosing?
Adding too much of the chemical with uncontrolled pumping will waste money and it could also reduce the process quality. A Madden dosing pump is designed to enable the operator to control the rate of chemical addition to make sure the results are within the limits of the specifications for the process.
Safety Features
Type DDB Double Diaphragm
Often times when metering applications arise, the liquid needing to be metered is a corrosive and dangerous chemical. These chemicals are not only harmful to human skin, but they can be extremely corrosive to metals, rubbers, and other materials found in the plant. When dealing with corrosive chemicals like this, parts fatiguing on the pump is inevitable. And a potential leak or rupture in the pumping system can have dangerous and costly consequences. Madden Type DDB Double Diaphragm construction is a feature meant to minimize/eliminate the dangers and potential losses that result from a rupture or leak in the system. This is achieved by adding safety features to the pump to ensure the operator that the corrosive liquid will not enter the interior of the pump or leak on the shop floor. And it's dry mechanical design means never having to worry about hydraulic barrier fluids
| | |
| --- | --- |
| | |
| Standard, single diaphragm design | Type DDB double diaphragm design |
entering the application in the case of pharmaceutical and food applications.
Construction: The DDB double diaphragm construction design adds a spacer and another, backup/secondary diaphragm to the chemical pump's wetted end to ensure the corrosive chemical, like caustic soda, never reaches inside and damages the pump's interior components. This is one big reason why, when properly maintained, there are Madden metering pumps out there that have lasted for over 25 years with only minor wetted end parts needing to be replaced.
The picture above is of a Madden JN series pump with a standard, single primary diaphragm design, and a Madden JN series type DDB double diaphragm design.
Leak Detecting Pressure Switch
Another great feature that comes with the type DDB double diaphragm is the ability to place a pressure switch in the spacer between diaphragms. There is a 1/4" NPT hole in the spacer that allows for a pressure switch to be installed. The pressure switch should be set to the lowest level. Under normal operating conditions the pressure inside this spacer is the same as the ambient air surrounding it. So if the pressure switch is set to its lowest setting and there is any kind of rupture in the pump's diaphragm, the smallest amount of pressure that results will set off the pressure switch. From there you can either wire it to an alarm or wire it to shut of the motor; making absolutely certain harsh chemicals like sodium hydroxide will never touch the shop floor or anything else near the pump.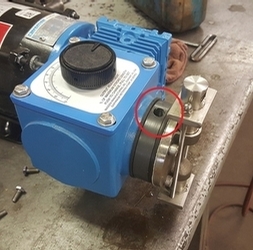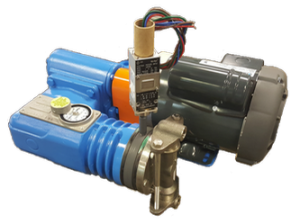 Metering Pump Selection Guide
For the cleanest and easiest way to inquire about a Madden chemical metering pump, download the pump selection guide, complete the form and upload it in the RFQ section of our website. We take pride in responding promptly!


Madden doesn't just manufacture chemical metering pumps. We also put together entire chemical metering systems.
Chemical Metering Pumps – Three Pump Series – Made to Order
| | |
| --- | --- |
| | |
| Example 1 of a made to order system | Example 2 of a made to order system |
Metering Pumps