Heavy duty tank and pump systems for practically any chemical addition need
Made in the USA
Madden Chemical Feed Systems offer the following combination of equipment to meet your chemical addition application's needs: a platform, a tank for mixing and storing chemical solutions, a mixer, a Madden diaphragm metering pump to inject the chemical solution, and suction and relief piping.
We build our chemical feed systems per spec, so nearly all of our systems are customized and built to order; with the equipment and features specified by the end user or end user's engineering firm. If you don't already have a design in mind, let us know about your project and we can help design a system to meet your needs.
Madden Pump is also a great resource to work with designing and building specifically boiler water treatment chemical feed systems. Scroll to the bottom of this webpage for more details on boiler water chemical feed systems.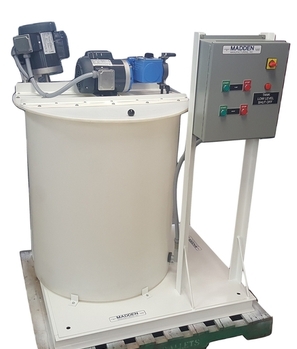 Madden Pump's Feed System Features & Capabilities
Designing: to be clear, we do not claim to be an engineering firm who can design any and all chemical injection applications from scratch; but we are certainly a good resource to start with and have over 65 years of knowledge in this industry. We can help make recommendations to your existing specifications and P & ID's to make your thoughts go from paper to reality. And if we can't fully help with the design phase, we most certainly know a firm that can.
Tanks: durable polyethylene tanks and 316 stainless steel tanks. Hinged lids and piping connections will be included. Sizes from 30 to 110 gallon capacity are standard on the polyethylene tanks, with optional sizes available to meet any storage capacity requirement. Stainless steel tanks can be completely customized per application requirements.
Metering Pumps: Madden diaphragm metering type pumps are used to inject chemicals into the necessary operating system or process line. Madden pumps are industrial grade, heavy duty construction, with adjustable output control. Output from 2 gallons per day for the smallest pump, to 360 gallons per hour for the largest. See our metering pumps page for complete pump details.
Industrial Mixers: Madden high speed, medium speed, slow speed, or variable speed mixers are used to mix and agitate the chemical solution. Stainless steel shafts and propellers are standard. See our  industrial mixers page for more details on our capabilities such as shaft length options and multiple propellers.
Platforms & Skids: the platforms offered be Madden are welded steel construction designed to support the filled tank, and serve as a mounting for the mixer, pump and piping. Platforms raise tank 16″ from the floor to enable easy access by the operator. Custom platforms for multiple tanks and pumps are available. Standard finish is acrylic enamel paint, with highly corrosion resistant epoxy primer with polyurethane paint top coat as an option. We also offer steel or stainless steel skids for chemical feed system mounting.
Control Panels & Accessory Equipment: Madden Pump offers steel and stainless steel, NEMA 12 and NEMA 4X enclosures for the control panel. Control panels often include on/off buttons for all motors, pilot lights for high/low level in the tanks, and a name plate if specified.

And there's about everything else under the sun that can be added to these systems; such as foot valves, strainers, check valves, relief valves, dampeners, back pressure valves, and so on. We have you covered there as well.
Standard Madden Chemical Feed Systems
See this chart below on our simple, pre-designed systems:
| Model No. | Tank Capacity | Tank Material | Pump | Mixer | Platform | Suction Piping |
| --- | --- | --- | --- | --- | --- | --- |
| TE501 | 30 | HPDE | Yes | No | No | Yes |
| TE502 | 55 | HPDE | Yes | Yes | Yes | Yes |
| TE503 | 110 | HPDE | Yes | Yes | Yes | Yes |
| TE504 | 55 | HPDE | Yes | Yes | Yes | Yes |
| TE504S | 55 | 304 SS | Yes | Yes | Yes | Yes |
| TE505 | 110 | HPDE | Yes | Yes | Yes | Yes |
| TE505S | 110 | 304 SS | Yes | Yes | Yes | Yes |
For these Madden chemical feed systems, reach out to the factory for pricing.
(ChemFeed16 Brochure)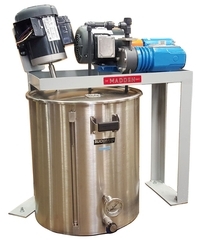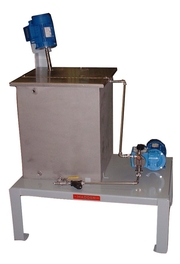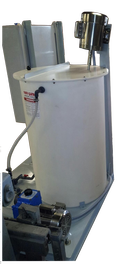 Packaged Chemical Feed Systems for Boiler Water Treatment
Madden Pump has an entire line of products dedicated to servicing boiler water blowdown. Blowing down water from the boiler is a crucial part of the boiler operating efficiently. Clean water means little to no scale build up on the water and fire tubes in boilers, and less dissolved solids
With over 65 years' worth of experience designing heat recovery systems and boiler blowoff tanks, plus offering chemical feed systems during that time, Madden naturally made its way into boiler water treatment as well.
Over the years we have been approached more and more by end users, engineering firms, and even boiler manufacturers to be the source for their boiler chemical feed system.
We are a manufacturer by trade, but our industry connections, experience, and knowledge of the boiler room and boiler water treatment allow us to be a great place for you to start the process of designing your boiler water chemical treatment skid.
Possible set ups for a packaged chemical feed system designed for boiler water treatment:
Most systems include at least (2) of everything to handle the more common chemicals in boiler water treatment
One side designed for OXYGEN SCAVENGER and the other PHOSPHATE.
(2) High Density Polyethylene tanks or 316 SS tanks

Madden uses tanks with cone or bell bottoms so that they are self-draining as well as provide flooded suctions to the metering pumps.

(2) Chemical metering pumps

The Madden metering pump designs can dose into systems operating up to 300 PSI. For systems needing to dose directly into high pressure boilers, we can provide high pressure pumps as well.

(2) High speed mixers to agitate the boiler water treatment chemicals.

(Thought, for your consideration) With the ability to mix your own chemicals to whatever concentration, this allows for you to use smaller/slower, less costly metering pumps for the system. Instead of buying huge tanks and pumps to dose the appropriate amount of oxygen scavenger or phosphate into the D/A tank or boiler water feed line, consider a system like ours that allows you to choose the concentration of chemical in the holding tanks.
For most boiler water treatment applications, this ability allows us to design a system with 30-50 gallon tanks with pumps designed with max outputs of 2 GPH.

All of the necessary piping, and accessory equipment.
Control panel to control all motors and level switches.
Platform or skid to mount the entire system on.
And more

We know we're only scraping the surface of possible adaptations per your boiler chemical feed system needs. And chances are you are about to bring us a new application we've yet to build exactly as it's designed. But if it calls for tanks, mixers, metering pumps and controls, we have you covered.