When considering different positive displacement pumps for your chemical addition process, often times you will be choosing between a diaphragm type metering pump and a plunger type metering pump. Both pumps are designed to produce accurate and repeatable outputs. This is an important feature for any metering pump as dosing the exact amount of chemical needed can be vital to the application in creating a new product as well as saving money by avoiding waste.
Yearly chemical costs for some applications can be millions of dollars, you don't want to settle for just any metering pump to dose these chemicals. So let's take a look at when a diaphragm metering pump is the best design for a metering application.For flow rates above 360 GPH and pressures above 300 PSI, a plunger type metering pump is likely going to be your best option. These pumps' design allows them to hit very high flow rates and pressures. However, this same design also limits the packed plunger metering pump significantly when it comes to flexibility. So unless you are indeed dealing with high pressures, don't settle on a packed plunger type pump.
Diaphragm type chemical dosing pumps can ultimately be a money saver
Most packed plunger type metering pumps use a steel solution head and steel plunger. If the chemical you need to dose is corrosive to steel, that immediately eliminates a packed plunger metering pump. And now begins the costly and time consuming process of finding other pumps and manufacturers to handle your other chemical addition jobs.
There are hundreds and hundreds of chemicals being used in industrial processes for hundreds of different applications. A diaphragm metering pump design like Madden makes, allows for flexibility by offering wetted end materials to handle any chemical addition processes.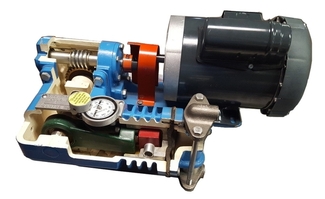 Often times, you don't need just one metering pump to dose one chemical into one application, but rather several metering pumps pumping several different chemicals into several applications, if not more! Having a product line like Madden Pump's chemical metering pump covering all your applications allows for much easier employee training with equipment, ability to keep common spares on hand for emergencies, only needing to go through one trusted rep/distributor, and so on.
How is Madden able to offer so much flexibility to handle any chemical?
The answer is pretty simple, we have Neoprene, Hypalon, Viton, and Teflon diaphragms available. These four materials can handle 99% of any chemical pumping application you bring to us. Along with diaphragm options, you can also choose between Polypropylene, PVC, Teflon, and 316 stainless steel solution heads as well. Madden Pump can mix and match materials to design the most cost effective and durable chemical dosing pump for your application.
What other advantages do I get with a Madden chemical injection pump?
Madden Pump works hard to build their competitive advantage around building quality products and especially responsive customer service. We have our work day schedules organized so that someone is always answering our phones to take care of reps/distributors and end user questions or any issues they may need help trouble shooting with their systems. Madden Pump never wants to be associated with callers being put on hold or sent straight to voicemail. Our small, family owned manufacturing company wants to be seen as the friendly next door neighbor, we are always here to help.
Madden also takes steps to make sure pumps and parts can be shipped to you quickly. We keep inventory levels to a point that allows us to ship any part out to you, in cases of emergencies, at a moment's notice, and if we're told early enough in the day, we can even have standard pumps out the door the same day!
Conclusion
When you pair the flexibility of materials available, with the quality of the product and customer service, Madden Pump's diaphragm chemical metering pump is one of the best options available on the market. We can service nearly all of your chemical addition needs and are standing by ready to help at a moment's notice to make sure your industrial chemical process is always running smoothly. And rest assured, if properly designed, you'll be able to "set it and forget it" with your Madden pump unlike most of our competitors. Our rugged pumps are designed to run 24/7/365.