Overview:
Madden Pump, Inc. offers three different lines of heavy duty, industrial mixers at an extremely competitive price. These mixers, also known as agitators, serve a vast array of industrial applications across the world; the mixing process and applications include, but are not limited to:
Liquid Blending
Solids Suspension
Gas Dispersion
Dissolving Solids
Chemicals
Mining processes
Petroleum processes
Slurries
And more!
The following mixing tank agitator lines offered by Madden are as follows (see our "Madden Industrial Mixer" blog for more detail):
AA102 High speed mixer, up to 500 gallon tanks

AA104 Medium speed mixer, up to 5,000 gallon tanks

AA110 Low speed mixer, up to 5,000 gallon tanks
Madden encourages you to look at our three different mixer lines as the starting point of a quick step by step process to finding the right industrial mixer for your application. There are many features we can add on to these agitators, and some of the features can be seemingly minor, but they start to add up quickly. Our goal is to make sure your Madden mixer shows up with every feature needed to start serving your application right away, all the way down to the exact propeller position(s) on the shaft!
Let's see how these simple and straight forward designs can be customized to serve many applications:
---
We've broken this blog down to show our heavy duty mixers' main features. They are: portable mounting vs rigid mounting; propellers and/or turbines; motor options; and high speed, low speed, and variable speed.
---
Portable and Rigid Mounting Options
At Madden we have three different styles of mounting brackets, the two rigid mounts can be customized to meet specifications, and all are designed for standard 56 frame foot motors.
C- Clamp mounting bracket: this is for applications that need the high speed agitator to be portable. Buy a smaller high speed mixer or even variable speed mixer, and equip it with a C clamp mounting bracket, and let that unit work some overtime. Use this bracket to put a mixer on a table, directly on the tank, or anywhere else you can think of to best serve your application.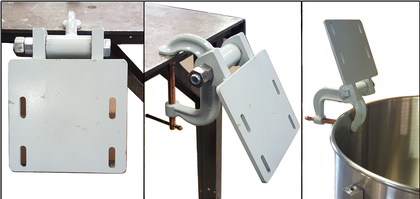 Rigid mounts: our rigid mounts are what we use with systems that include mixers and High Density Polyethylene tanks. The rigid vertical mounting brackets use a specified length of angle iron and a motor mounting plate welded together on a base for the tank.
Bridge mounts: The AA031 and AA032 are bridge type mixer mounting structures, specifically designed for heavy geared mixers. The bridge type mounts support the mixer over the tank so the entire weight of the mixer is supported by the bridge mount.
Propellers and/or Turbines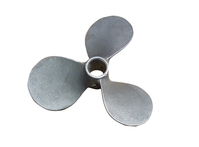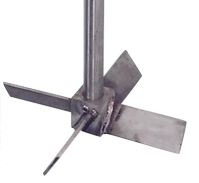 Madden can attach 4" propellers, 8" propellers, and even large turbines up to 24" in diameter! We put a flat in the shaft and use a set screw to fasten the propeller to the shaft. This allows for great stability while still providing the option to adjust the propellers' positions.
Motor Options
As often as possible, Madden tries to use standard motors for our customers. By standard we mean 56 frame foot mounted motors, 60 Hz, which operate on single or three phase power. These motors are readily available and stocked; this allows for fast assembly when it comes to putting together a mixer and it also allows for a more universal product. We have found that many customers already have a preferred setup using some kind of 56 frame mount; and when they hear that they can simply remove their old mixer and replace it with their new industrial duty Madden mixer, with no fabrication required, they get excited!
However, we also know your applications can require mixers to operate under harsh conditions and even dangerous conditions. And we're ready to accommodate that too. We have done our due diligence to search for great pricing on special motors like: explosion proof, inverter duty, explosion proof & inverter duty, 50 Hz motors, washdown duty motors, and if one of those doesn't work for you, give us a call and we'll see what we can find.
High speed, Low speed, or Variable speed
Have an application needing vigorous agitation, mixing, blending, and/or dispersion of two or more substances? Get an AA102 or with one, two, or even three propellers on it and turn it into one homogenous solution. These industrial mixers spin at 1,725 rpm.
Have an application needing smooth, steady mixing? AA104's and AA110's can maintain movement and agitation in huge tanks for years and years. These heavy duty mixers spin at 345 and 57 rpm's respectively.
Need both? Get a variable speed mixer. We have mixers with rpm ranges 200-2,000, 40-400, and 6-66 rpm's, all available to help you tackle any variations that can come up when mixing.
Conclusion
Madden Pump has your buying experience in mind when it comes to getting an industrial duty mixer. We'll help you to speed up your purchasing process by providing extremely responsive customer service. It starts as a simple mixer, and quickly grows into your mixer.