When Madden personnel look into design changes and improvements with our metering pumps, our priority is always first focused on characteristics and features that promote 24/7/365 chemical metering. Our goal is to provide the most rugged, easy to operate chemical metering pump on the market. Set it, forget it, and then trust it: the Madden metering
pump will be a workhorse for your chemical injection application with little to no down time in comparison to most of our competitors.
This has always been Madden Pump's M-O. We have worked hard to make simple, rugged quality synonymous with our metering pumps.
That said, we also want to stay competitive in a market that is becoming more and more automated as the days roll by.
What's our answer to staying rugged and simple, while offering the convenience of automation?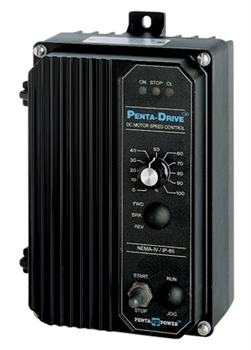 KB Electronic's KBAC-24 variable speed controller
(Madden now offers their Digital drives as standard)
The ability to control your Madden chemical metering pump remotely, as well as offering our self-detecting leak switch.
Automatically injecting chemicals into your process from a remote location
Madden Pump holds KB Electronic's digital variable frequency drives in stock for use with our chemical pumps. With the IODA card option chosen for the controller (VFD) an operator can then remotely control the chemical pump's electric motor speed and thus its output. This is done using a 4-20mA signal follower.
Madden's chemical metering pumps are very linear in output when adjusting stroke length and/or motor speed. Once your chemical injection pump is calibrated for the application, the operator can confidently adjust output from their control room knowing the metering pump's output will increase and decreases proportionately to the percentage change in the motor speed.
The KB Electronic VFD line also offers output signals allowing you to set up feedback from the VFD to keep a log of the motor and pump's performance.
In our opinion the greatest advantage to using Madden metering pumps with VFD's is efficiency in operation. Often times there are multiple pumps running in a chemical dosing application, and they can be placed all over the plant. With each pump having the ability to remotely adjust and report back to one control station, this means only one operator is needed to monitor the entire processes. On top of that, it eliminates the need to walk around the plant, testing and confirming your pumps performances.
Madden Pump recognizes this feature as a necessary component to durable and simple 24/7/365 operation. The other main feature we believe is needed for the easiest and most efficient way to inject chemicals for your process needs, is having a simple leak detecting switch.
Pressure switches used as leak detectors on diaphragm metering pumps
Madden Pump offers a Type DDB double diaphragm set up with their chemical metering pumps for corrosive chemicals such as sulfuric acid, sodium hypochlorite or caustic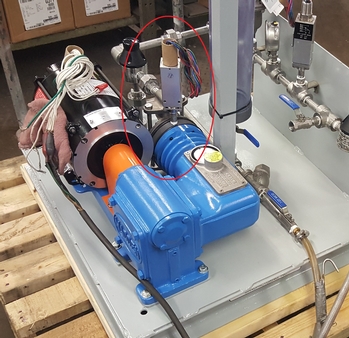 Back side few of a the leak detecting switch installed on a
Madden diaphragm metering pump with the Type DDB double diaphragm set up
soda, chlorine dioxide, etc. Our double diaphragm chemical pumps are set up with a dry, mechanically actuated piston and secondary piston; there is no hydraulic barrier fluid used in our systems.
For most low flow, low pressure chemical injection applications, we believe mechanically actuated diaphragm metering pumps are the way to go. Dry interiors assure you that your chemical process will never be contaminated, even if the primary diaphragm were to rupture while unmonitored.
Since it is dry, if a Madden metering pump were to have a diaphragm fatigue during operation, at worst, the chemical process would start to leak out of the weep hole we place in the spacer between two diaphragms. Operators walking near the pump would then be able to see the pump needed maintenance as a spill containment bucket or basin would be filling with process liquid.
That said, we recommend you go one step further, and automate your leak detecting process.
A simple on/off, relay type pressure switch inserted into the 1/4" NPT weep hole of a Madden metering pump with a Type DDB diaphragm can automatically detect a leak and stop the pump from operating, all while alerting your chemical pumping control system.
The pressure inside the spacer separating the primary and secondary metering pump diaphragms should be the same as the ambient air around it. Therefore if we insert a pressure switch into the 1/4" NPT hole in the spacer, and set the switch to trip at a low PSI setting (normally 5 PSI), any rupture in the primary diaphragm would be quickly diagnosed and further damage would be prevented.
The chemical process's normal operating pressure would quickly consume the area between the primary and secondary diaphragm, filling up the spacer and into the pressure switch. Thus tripping the relay inside. From here, we recommend the relay set off an alarm as well as switch off the pump's motor.
As a result, the pump has automatically kept dangerous and corrosive liquids from spreading across your shop as well as kept the chemicals from harming the rest of the pump.
Thus keeping in line with little down time, simple operation, and maximum efficiency in your chemical metering application.
Conclusion
If durability and simplicity would help provide you with peace of mind when it comes to your chemical injection pump process, please give our sales rep a call to discuss our product lines. Madden may not have the fanciest, most technologically savvy metering pumps on the market, but we do compete as the most trust worthy brand in quality and responsive customer service available in the market.
This has been our goal for 65 years, and we're not looking to compete in any other way, any time soon.
With the ability to easily control your pump from a remote location, as well as the metering pump's ability to self-detect leaks, what more could you ask for in a 24/7/365 chemical injection pump?! When it comes to consistent, durable operation, we have you covered; and if you have something else in mind that would aid your 24/7 "set it and forget it" type chemical process, let us know how we can improve!