Madden Pump is located in Elkhart, Indiana and has manufactured their rugged, dependable line of chemical metering pumps for over 65 years now. We have a variety of wetted end materials that allow our pumps to be chemically compatible with any liquid you need to dose. All parts are stocked and can ship out same day when spares are needed and it also allows us to build emergency, rush pumps in as little as 2 days. Madden Pump may not have a vast variety of chemical metering pumps designs like some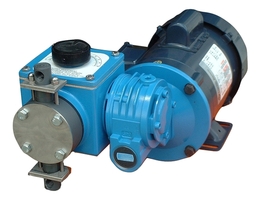 Madden JN series chemical pump
(6 models, capacities from 1-11 GPH)
of our large competitors, but when it comes to lead times and responsive service Madden is second to none. The following is a look into our chemical pump manufacturing process to explain how we build rugged, dependable metering pumps and why you can trust Madden pumps and parts to always be readily available for your chemical metering needs.
THE DESIGN: Madden Pump can legally claim the "Made in the U.S.A" status for our chemical metering pumps. You'll find this declaration to be used lesser and lesser in the industry as most have to claim "Assembled in the U.S.A". By definition from the Federal Trade Commission, your product must be "all or virtually all" made in the United States. Over 90% of Madden Pump's chemical metering pump parts are machined directly in our Elkhart, Indiana plant. We buy castings and bar stock metals from local manufacturers and use CNC machining and other equipment to make our pump bodies, worm gears, sprockets, pistons, drive shafts, valve assembly parts, etc. Except for special motors and nuts and bolts, virtually every part needed to make our pumps are machined and kept in stock right here in our shop.THE MANUFACTURING PROCESS: Let's go through the process of a pump order to help show how a Madden pump is efficiently built, tested, and shipped:
When the order comes in it is processed and sent back to the shop. One of our pump builders will then grab a machined pump body off of the shelf to start. We have 3 designs, our JN series, MF series, and MH series (offering a range from 1 to 360 GPH, up to 300 PSI).
The "guts" are then installed inside of the pump. This includes the drive shaft, appropriately sized worm gear and sprocket, rod and piston, and bearings. This process doesn't take more than 15 minutes before it is in the paint booth.
After a couple layers of standard acrylic paint, or our special epoxy/polyurethane paint, the wetted end assembly is installed. Again, this is simply a matter of pulling the appropriate parts off of the shelf; i.e. the solution head, diaphragm, valve seats, balls, etc. All of these are available in various materials allowing us to make a chemically compatible pump for any liquid.
Next, the appropriate motor is installed and we're on to bench testing. All Madden pumps are left on test for at least one hour before shipping even in emergency/rush situations. Most are left on for 24 hours for a standard build. We double check to make sure nothing is leaking and the pump is reaching the needed flow capacity and pressure.
Finally, we secure the pumps to a wooden board, shrink wrap them, add necessary literature or ancillary equipment, and out the door they go. This is usually a 2-3 day process, the 1-2 week quoted lead time is simply a matter of allowing the shop time to get to the order in a normal non-rush scenario.
---
**VIDEO**
Check out this sped up video showing the machining of the body and Gary building a standard Madden MH series pump: (3:35 min YouTube Video) "How a positive displacement diaphragm chemical metering pump is built"
---
In an industry where we compete with large conglomerate companies able to pour thousands of dollars into high tech R&D for their metering pumps, Madden focuses on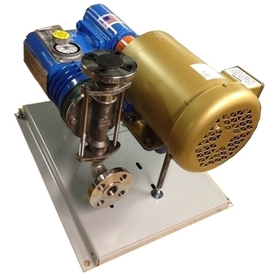 Madden MF series chemical pump
(6 models, capacities from 5-75 GPH)
staying simple and reliable. You would be hard pressed to find another diaphragm metering pump as rugged and dependable as our design. Our equipment is made to be a work horse, we want end users to feel confident that they can "set it and forget it" knowing the Madden chemical metering pump will run 24/7/365 with little to no down time or maintenance required. And when it is necessary, it should be breath of fresh air knowing it takes 5-10 minutes and common every day tools to replace the worn parts and be back up and running.
So there it is, a simple and effective article for a simple and effective metering pump line. If you're an industrial end user needing a dependable metering pump, or an industrial equipment supplier with customers needing this, please give us a call or an email with any further questions or inquiries you may have. Here is our contact information and a list of highlights we want to emphasize in this article:
ARTICLE TAKEAWAYS AND CONTACT INFO
Phone: 800-369-6233 or 574-295-4292
Contact our Sales Manager directly at aaron@maddenpump.com
Article Highlights:

All pump parts stocked and readily available to ship in 1-2 days.
Our pumps are routinely built to order in 1-2 weeks. Barring special motors needed, we can ship emergency pumps out in as little as 1-2 days.
Madden Pump's products are Made in the U.S.A.
Our design has been in the industry for over 65 years. We focus on responsive service and building a reliable, simple metering pump.
Conclusion
We're a smaller, family owned chemical metering pump manufacturer that hasn't changed much in 65 years and we plan on keeping it that way for another 65 years. If it isn't broke, don't fix it. If you have a chemical metering pump application we'd love the chance to work with you.