To start off 2018, we had an interesting repair pump situation arise. A Madden metering pump sent back in for repair that was over 54 years old. This diaphragm metering pump has been in operation since October 16, 1964. The majority of its time has been spent dosing diatomaceous earth slurry for the drinking water at Wells College in Aurora, NY. It just
recently got sent in for repair to semi retire as the backup pump.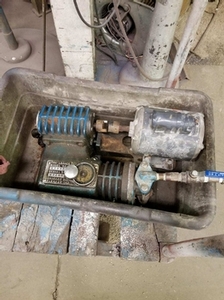 Not only has the chemical metering pump gone through 54 years of operation before it reached our facility, but during the shipment back it
endured very poor handling. We came in on a Monday morning to find the pump literally tossed on to our back door patio, upside down, with the motor and motor mount broken right off the pump body itself. Unsigned for and left to the elements.
The end user had a note inside the box asking us to take a look and see what it would cost to get this pump back to tip top shape. Doesn't look to be in the best shape does it?
Most Madden MF series diaphragm metering pumps with a standard design cost in the ball park of around $2,500 nowadays (April 2018). What do you imagine it cost the end user to have this pump completely torn apart, and all worn parts replaced?$541.35. This includes parts, paint, labor, and testing the pump before shipping it back.
What goes into repairing a Madden chemical metering pump?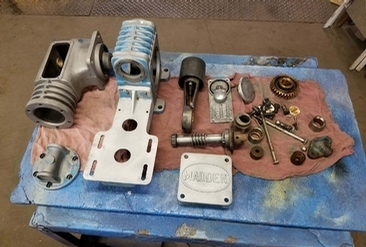 First and foremost, Madden does charge a $50.00 inspection fee. What you get for the cost is one of our pump builders opening up your pump and looking it over piece by piece to determined what needs to be replaced, what just needs some tender love and care, and what all is perfectly fine as is.
At this point we will quote you the cost of the parts and the remaining labor hours it will take to complete. For the most part, it never takes more than an hour or two for our pump builders to repair even the metering pumps in the roughest of shape. If you chose to go ahead with the repair, the labor for the inspection becomes part of the overall invoice; in other words the inspection fee goes away and that time is chalked up as labor, you won't be charged twice.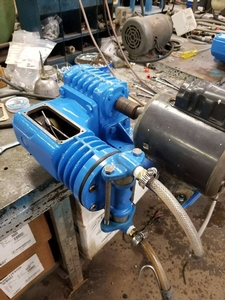 After this, our pump builders normally sand blast the pump and parts that will be kept, and then allow them to soak in a cleaning solution. Once this processes is done, we will add whatever parts are needed, reassemble, and send it off to be painted.
With a fresh coat of paint, most Madden metering pumps will look as new as the day they were built. And once the paint dries, we throw it on the bench test to make sure they perform just as well as the day they were built.
Then finally, they are boxed up and shipped back to your facility, ready to perform for another 10-20 years of service.
Why Madden metering pumps are worth repairing instead of buying new unlike some other types of chemical metering pumps
Madden Pump uses all metal parts in their metering pumps because our focus is on providing 24/7/365 pumping. Most of these metal parts are cast, and then machined in our shop. The Madden metering pump has a rugged aluminum body with steel, iron, and bronze parts inside making up a rugged and simple solution to your chemical injection needs.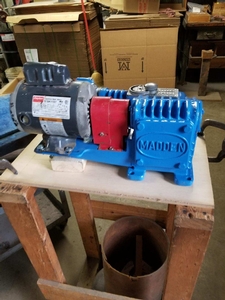 And "simple" is another key word in our design. Straightforward and dependable may be better words to use. Whenever we are working on
improving a pump design, or deciding on a product that we could add to a metering pump system, we add emphasis to finding and using reliable and easy to use components. When the design is rugged, and simple and straightforward, it's more often than not a product that can be maintained and used for years and years of service life.
So that's why Madden metering pumps are worth repairing. They inherently last a long time, and are easy to service and repair when/if needed.
Our chemical metering pumps do not have any finicky parts or components; just solid, straightforward pieces that drive our pumps' thick rubber diaphragms forward and backwards.
You can spend $2,500.00 on a Madden metering pump today, with minor costs to maintain the wetted end assembly, and then potentially $500.00 years down the road to have us service the entire unit inside and out.
Or, you can look into the $500.00-1,000.00 solenoid driven metering pumps and throw those away once they wear out; replacing them every couple of years.
When it comes to 24/7/365 type chemical injection applications, a durable metering pump like Madden Pump's design is much more cost effective in the long run.
Conclusion
If you have a chemical injection application that calls for a heavy workload, give our metering pumps a closer look. From the motor, to the pump's internals, down to the some of the thickest diaphragms available in low flow metering pumps, the Madden design has you covered.