"I'm sold on Madden Pumps, best available for mid to high flow ranges, ≤300 PSI… Definitely an underutilized and under appreciated product line we should be doing 10X more with."
-Dan Disher, Brabazon Pump Compressor and Vacuum, Wisconsin
---
At Madden Pump our MF series diaphragm metering pumps are our most popular series of industrial grade metering pumps. If you have an application calling for the pumping of a liquid, potentially dangerous or corrosive, from 5-75 GPH, then keep reading to find out more about what these heavy duty metering pumps can do for you.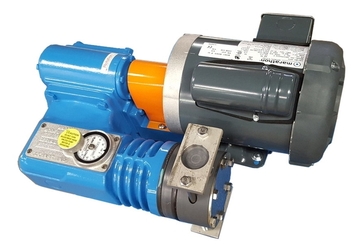 Features
Industrial grade, Durable– made of various heavy duty metal parts. Madden Metering pumps are extremely durable; there are many Madden pump's around the world that are in operation at 30+ years old, still being sent minor wetted end repair parts from our factory. Our pumps are easily repairable with common tools.
Accurate – Madden pumps pump at +/-1% accuracy. Our metering pumps sell because their output is repeatable and consistent.
Designed to pump nearly any liquid – not every pump out there can handle sodium hydroxide (caustic soda), sodium hypochlorite, sulfuric acid, etc. but ours can handle them all. We have wetted end materials available to design a pump to handle nearly any chemical including acids, bases, corrosive or viscous liquids, and even slurries.
Safety First – Madden diaphragm metering pumps have a backup double diaphragm option for ensured safety and peace of mind. This includes a second diaphragm to ensure the corrosive liquid never enters the pump, and a weep hole in the spacer between the two diaphragms where a leak detecting pressure switch can be installed. You can wire the leak detecting pressure switch to either shut off the pump or turn on an alarm if there is ever a rupture in the primary diaphragm. This ensures your shop and anything near the pump will never be harmed by the corrosive liquid.
Made in the USA – every part going into your Madden metering pump, is either machined directly in our shop, or bought from other companies around the United States of America. Everything is assembled in our Elkhart, IN plant.
Bottom line, we believe our industrial grade metering pumps are the best bang for your buck, the best investment. It will get the job done, accurately, and for a long time.
Comparison to Solenoid Driven/Plastic Diaphragm metering pumps.
Quite often when needing a metering pump in these mid flow ranges, customers will also be considering solenoid driven metering pumps (as opposed to our motor driven, mechanically actuated metering pumps).
Now there are some advantages to these pumps, we won't shy away from that, for example since they are solenoid driven (think of a magnet turning on and off to produce the stroking motion) it is easier to make them smaller and out of plastic, resulting in a cheaper pump.
Having said that, they may have their place in very, very low flow ranges, but when it comes to applications from 5-75 GPH, a Madden MF series metering pump truly does out shine these plastic pumps. And here's why:
Solenoid driven diaphragm metering pumps cannot handle pressures up to 300 psi
Madden industrial grade metering pumps can be repaired, as opposed to replaced, when minor wear and tear occurs.
Madden industrial grade metering pumps are designed for 24/7/365 applications
Most solenoid driven pumps aren't capable of outputs greater than 20 GPH
Conclusion
We're here to assist you in your investment of a durable diaphragm metering pump.